In this Article – Are you a mom looking to make money from home? There are many high-paying freelance services to offer for moms that can be flexible and can be done from home. Read on for the top 5 best-paying freelance services to offer for moms!
Just because you're a mom doesn't mean you have to sacrifice your career.
Yes, juggling between a family and your work life can be a little tough at times. But, there are many other effective work opportunities to make money from home while also taking care of the family.
Here is a list of a few such work-from-home job opportunities every mom can try.
Of all these, one of the zero investment ways to make money from home is by offering freelancing services.
Freelancers are often in charge of their own schedule, as well as choosing where they want to work and when.
This is why freelancing best suits most stay-at-home moms who want to have both their careers and family on track.
Get to know in detail about freelancing and how it benefits moms here in this blogpost.
But just like any other job opportunity out there, not all jobs are created to be perfect freelance jobs for moms. Sometimes these freelance jobs pay less than that for full-time employees.
So it's important to choose freelance jobs wisely!
Best High Paying Freelance Services To Offer For Moms
Here are 10 high-paying freelance services you can offer as a mom that will pay you higher amounts while also being super-flexible.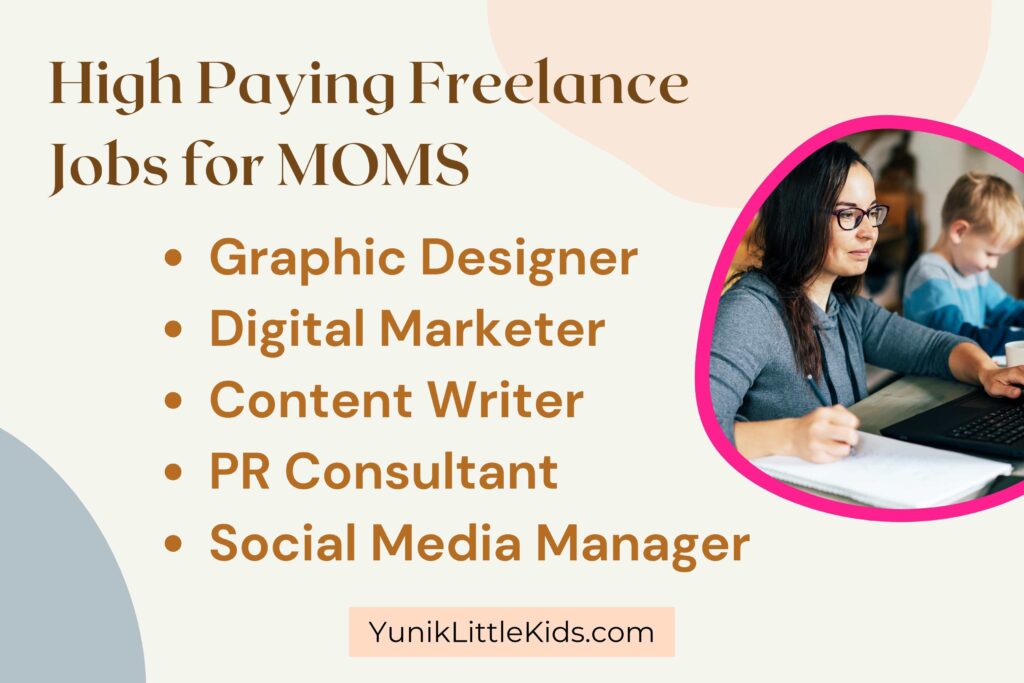 Freelance Graphics Designer
A graphic designer is someone who creates a visual representation of an organization, product, or event and applies those visuals so that they are engaging to their intended audience.
A graphic designer can work as an in-house employee at large corporations or agencies, but many also find freelance opportunities with companies and individuals who need design services on a stand-alone basis.
Freelancing as a graphic designer offers more flexibility in scheduling which can be beneficial to moms.
It is also a higher-paying option than most other jobs.
Skills required to become a freelance graphic designer –
As a mom, if you are looking for jobs with basic designing works, good knowledge of the CANVA app can be very beneficial to you. This includes basic social media designs, pinterest images & so on.
But, if you want to provide advanced graphic designing works, then the following high-profile skills can be of help.
Knowledge of Designing tools like Adobe Photoshop, Indesign, Illustrator
Basics of HTML
Basics of Microsoft Office, CSS & Web design
In the case of working with renowned brands, they may ask for a graphic design degree.
This article can help you understand in detail what most companies look for in a graphic designer while hiring.
Where to find freelance graphic designing jobs?
Other than pitching directly to clients and getting jobs through referrals, there are many websites where you can find freelance graphic design jobs. Here is a short list of them:
Behance
Dribbble
Fiverr
Freelancer.com
Gumtree
PeoplePerHour (UK)
Upwork
Freelance Digital Marketer
Digital marketers are people who are in charge of promoting a product or service to customers through the internet and other digital media.
They create customer personas, analyze their target market, write social media content & so on.
They integrate advertising campaigns on different websites, and set up email campaigns.
This is why it is no wonder that digital marketers are paid well. It takes a lot of time, knowledge, and experience to set up advertising campaigns on different websites. Consequently, they get higher salaries than other jobs in the same.
Skills needed for a digital marketer –
Becoming a digital marketer is not as easy as it may sound. It requires an understanding of various concepts, practice, and experience to land a perfect high-paying job.
Knowledge of digital marketing and online marketplaces is a must. The ability to learn quickly about new technologies. Have strong analytical skills. Work in a fast-paced environment with multiple projects at the same time. And the ability to lead others is also important for this job position.
Strong communication skills: Digital marketers need constant contact with clients.
Good research skills: to be able to do in-depth market research and identify new trends
Familiarity with social media: Being up to date on the latest apps and platforms. Knowing how they work in order to have a successful marketing campaign.
Strong business acumen: Digital marketers should know their way around financials such as budgets, expenses, or margins. They need to be able to generate reports that reflect the success of the company.
Attention to detail: Often, a mistake on an email could lead to loss of a customer or even a potential client. Hence, digital marketers need to be aware of all details in order not to make costly errors.
Analytical skills: being able to use data tracking tools such as Google Analytics in order to identify where
The long list of skills may sound daunting, but a good digital marketing course can help you ace every aspect of these with ease.
Here is a list of such FREE courses that can help you gain digital marketing skills as a beginner.
This article from ReliableSoft details the top 10 online digital marketing course (FREE & Paid) which would be helpful for you/.
Where to find digital marketing jobs?
You can either pitch directly to brands through market research or find jobs through listing on sites like
Freelancer
Upwork
Indeed.com (US)
Gumtree (UK)
Fiverr.com*+paid jobs are usually more expensive than free ones, so it's important to be careful when choosing a job on this website
LinkedIn is also one of the best ways to find legit digital marketing jobs.
-You can search for jobs by location and keywords
-Company pages on LinkedIn also allow you to find freelancing opportunities. These jobs are usually better paid than regular listings because they are coming from the brands themselves.
So make sure you have a profile up! The more work experience that is displayed on your profile, the higher the pay you can pitch for.
Freelance Content writer
In this digital era, everything is content. Every brand has the need to depict itself appealingly in front of its potential customers. This is where a content writer comes in handy to craft and tell compelling stories through words.
It's imperative that all brands have their own social media accounts. Be it Twitter, Facebook, or Instagram (or any other form of communication), it is the best way for the brand to connect with audience.
Consequently, they depend on good content writers to do the job for them in the best way possible. This is why a lucrative content writer can easily get paid hand fully just like that.
Also, talking out of the experience, content writing is by far one of the most flexible & high paying freelance jobs for moms.
As a mom, you can set out a specific time to work like during your kids' nap time or when they leave for school. No matter when all you need to do is complete the tasks before the deadline.
No one cares when exactly you may be doing the job, mostly.
Skills needed for a content writer
Strong and captivating writing skills. The ability to write succinctly is a must-have for copywriters.
Outstanding command over the language. : Having mastery over grammar, sentence structure, punctuation rules, etc., will help.
Good research skills: Ability to do investigative research and find relevant, accurate facts.
SEO (Search Engine Optimization) knowledge. Which is important for the business' website to rank on social media
No one is born a writer, you learn, practice & improve to gain these skills step by step.
There are also many online content writing courses that could help you gain knowledge on these front making you a better content writer.
Where to find content writing jobs
There are several ways to find these jobs:
First, one can use online freelance sites like Upwork, Guru, or some other sites specific to freelance writing.
These platforms allow people in need of a content writer for their company's campaign to post jobs. And freelancers looking for new gigs can go through the listings and apply.
Second, you can pitch to brands directly or apply to the job opening directly on their websites.
Content writer vs copywriter –
One of the high-end subdivisions of content writing is copywriting.
A content writer is someone who writes articles, blogs, and other written works. A copywriter, on the other hand, specializes in writing with regards to the marketing or branding needs of a company.
As a copywriter, one would be expected to write with making sales in mind rather than just giving information to the customers.
Copywriters may also be able to come up with catchy headlines, slogans, and taglines for marketing campaigns. This is much more difficult than simply summarizing the product features in a written piece.
As a result, copywriters are paid higher than content writers.
How much can you make as a freelance content writer or a copywriter?
This is a difficult question to answer because there are so many variables that go into this –
the type of copywriting job
the hourly pay rate someone charges,
how much time they have invested in their freelance project.
A good rule-of-thumb is $50 per hour for an average experienced person with rates typically ranging from $25-$75 depending on your writing gig.
A typical Indian Copywriter can earn a minimum of Rs. 20,000 per month provided he work full time even at below-average rates.
Freelance PR consultant
A PR consultant (public relations) is a professional who assists and counsels businesses in creating public awareness of their products or services.
They work with companies to build notable reputations, while also building up relationships with the press and media outlets that are crucial for spreading news of your company's latest developments.
This job is again one of the good freelance jobs for moms because of the time flexibility. With this kind of work, you can set your own schedule and decide on when to start/end working.
Skills needed for a PR Consultant
If you have the following skills, then this high-paying PR consultant job is the best for you as a freelancing mom.
Public speaking
Communicating with media outlets and journalists
Ability to write professionally in different styles of texts (e.g., blogs, press releases)
Basic knowledge about journalism and how it works.
Computer skills: Microsoft Office Suite, Google Docs/Sheets/Slides, social media management tools like Hoot
Social Media Manager
A social media manager is someone who manages the social media of a company or client.
For most brands, social media has become one of the best places to connect with their audience and potential customers.
It is, therefore, important for businesses to hire someone who has the expertise of how social media works, as well as understanding what it takes to get a customer's attention with a tweet or Facebook post.
The responsibilities may include
managing the company's pages on different platforms such as Instagram, Twitter, LinkedIn, etc.,
create content for these channels in terms of blogs/articles which are either sponsored posts or advertorials (social ads),
track analytics data on various social networks. This will inform decisions about marketing campaign strategies.
Depending on the type of your client business, the social media manager job can be greatly flexible for moms. Thus, helping them to manage well with kids & family.
Skills of a typical social media manager:
Great communication skills (both written and verbal) with understanding of how social media works. Platforms like Facebook, Twitter, LinkedIn, etc. require to maintain regular contact with customers
Ability to bring in new fans/followers by posting engaging content on platforms like Instagram and YouTube
Can work from home as long they have access to a good internet connection. This means freelancing moms can take care of their kids while working! Indeed an ideal freelance job for mothers.
How much do beginner social media managers make?
A typical social media manager with good marketing skills could make around 30k rupees per month on average.
Other Freelance jobs for moms that pay a good salary include –
Web designer
Photographer
Content marketer
Game developer
& so on..
Best freelance jobs for moms as a beginner
As a beginner, you first need to be careful about what you choose. Choose what you know or what interests you. No matter how easy a work is, if you don't love, you may not last long.
Identify your areas of interest and choose jobs in that category.
Even if you are not an expert in that area, you can learn eventually by practice or through some online courses.
Lastly,
Hope this article gives an overall perspective about high-paying freelance services to offer as moms. Depending on how much time you can spend in a day and the services you offer, you can even earn 6 figure income in long term.
There are so many opportunities out there – we just need to keep looking!
Get ready to take your career into your own hands with these amazing opportunities. These jobs will allow you to work at your own pace while providing a great income for yourself and your family. Get started today!
---
Related Articles You May Be Interested In –
7 productivity mistakes you may be making as a work-at-home mom (and how to overcome it)