Let's get straight to the point. You are here because you are a mom who is searching for opportunities to work from home and earn a good income out of it. 
The mommyhood usually brings in all the new responsibilities to us giving us so many reasons to want to work – be it a desperate wish to support the family financially or just satisfaction of doing something useful and keeping ourself busy.
No matter, you are currently working or not, the one thing most moms search for is – if there will be a possibility to work from home while looking after kids. 
Believe me, work from home need not be a distant dream anymore. There are lots of possibilities that can make it true.
Yeah! You heard it right;
You are not really far away from achieving it – provided you are ready to put in that effort and hard work into it.
Here, I would like to share with you my experiences and learnings during this journey of finding a reasonable work from home job without investment. I will also share some reliable job opportunities that you can explore in order to work from home online or offline.
First – Prepare Your Mindset 
Working from home is difficult – more difficult than you would ever have imagined, but choosing the right work that really suits you and interests you is highly important.
One thing I learnt from trying out many many works from home jobs online is that –
Never ever choose a work from home job that you are not totally interested in. Choose it one and only if you love it with all your heart. 
Because being a work from home mom with kids to take care is sure to put lots of pressure on you. The work should be something that becomes your relaxing 'Me Time' – just like listening to music or watching TV. 
Yes, any job will have work pressure. But, that shouldn't add to your stress. You should always try to be in a state that 'I love it so I do it' and not 'I am sacrificing my free time and working for my family'. It is true, but that shouldn't be the driving force every single time. 
Work From Home Job Options FOR MOMS
As a mom, working from home may be your all-time dream. As said, it is up to you to choose what interests you the best.
Here, I have listed down a few of the vast job options available for you to earn while still being a stay at home mom.
For the ease of your understanding, I am classifying the jobs into two categories – Work From Home Jobs Without Investment & Work From Home Jobs With Investment. By Investment, I mean every single penny you spend on the work before earning real money out of it.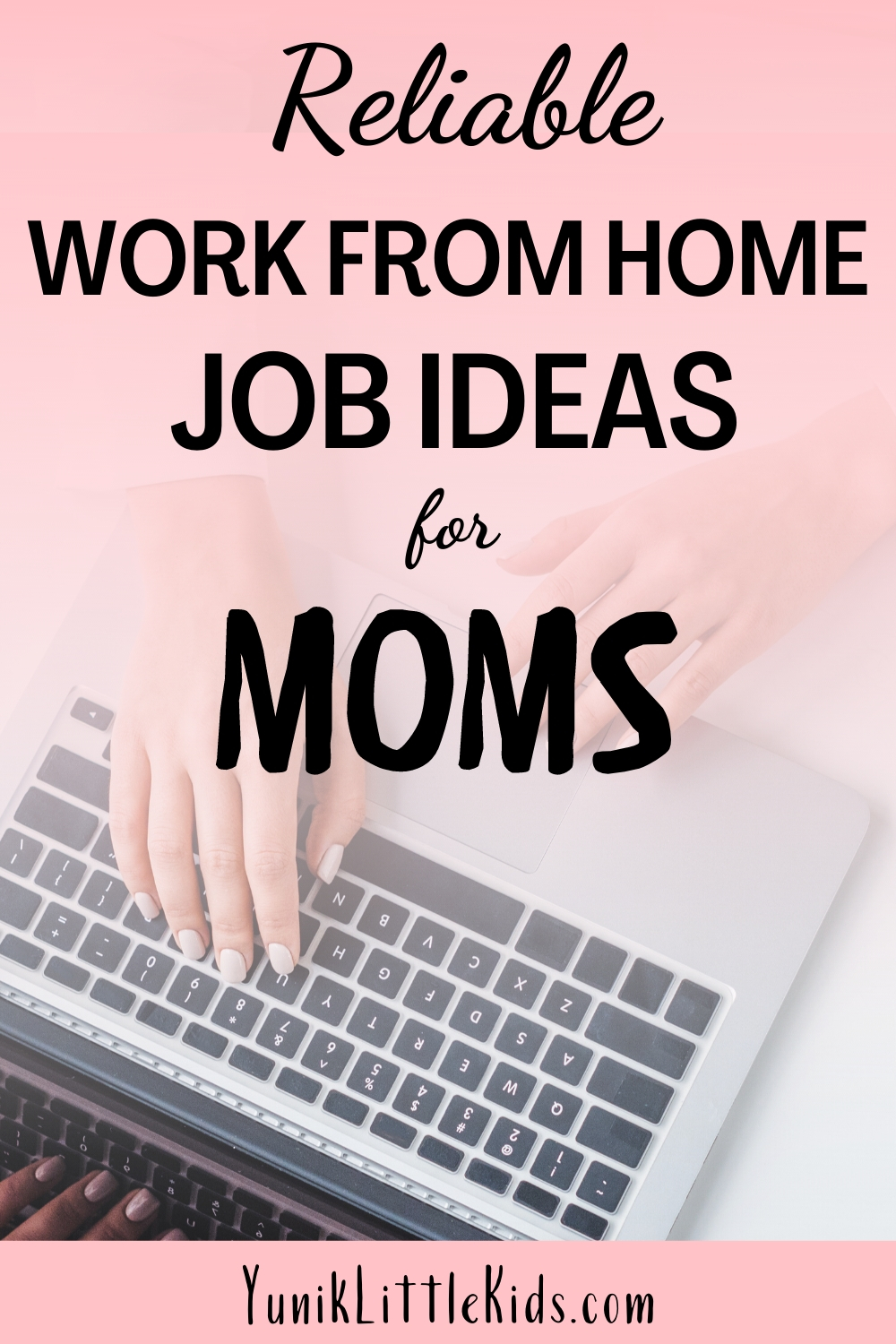 Work From Home Jobs for Moms
– Without Investment
There are a lot of jobs online and offline that wouldn't require you to put an initial investment, but earn a monthly income from it. But, the catch here is to find the right one.
If not for money, for the hard work and efforts you put in, the returns should be satisfying.
Tutor
Does that seem an old-school way to earn money from home? In the Indian context, becoming a tuition teacher is what stay at home women did from generation after generation.
But, believe me, it still is in trend – in an even more streamlined and trendy way.
With the COVID-19 crisis circling our legs, schools have been closed and online teaching platforms have gained massive attention.
You can try your hands on online teaching platforms as a teacher for students of various ages depending on your capability.
The good news is – most don't ask for any teacher training certification or graduate courses. All they see is your ability to teach the students properly.
Some of such online tutoring platforms, that educate the students about everything from basic maths to advanced coding & app developing, include –
Also, Cuemath is one other platform that connects teachers with local aspiring students to learn in a home-based setup rather than online classes.
Becoming a teaching partner in these platforms can help you earn a minimum of Rs.10,000 per month on an average, depending on how many hours you spend in teaching and what you teach.
But, note that, a proper level of interest and expertise is expected for this profession. If achieved, this work from home job online can be a boon for any mom with kids at home.
Freelance Writer
One of my favourite work from home jobs that currently pays my bills is Freelance Writing.
First, let me start with what is freelancing. I know you would be aware of this famous term already. But, at the initial days of searching for a job, I never knew such a word existed.
Freelancer – Someone who offers services (of any kind) on their own terms, precisely – self-employed. They are not a part of any firm or organisation. They find clients themselves and work for them.
Read – What is Freelancing? – A complete guide to Freelance for Stay At Home Moms
So, as a freelancer, you can choose to offer any type of service you like. Here I am mentioning about freelance writing.
Writing can be anything including article writing, ad copywriting, social media posts writing and so on. You can easily find such jobs on job portals like freelancer, Upwork, etc.. Or also find your clients directly from your network circle.
With this, you don't actually need to spend a fixed amount of time every day for this job. Depending on your deliverables, you can plan your work according to your's and your kids' schedules and make working easier than ever.
On the whole, freelance writing work can be considered one of the best jobs for stay at home moms.
Social Media Manager
Social Media Managing is considered the subset of Digital Marketing, but still, you don't have to be an expert in digital marketing to find a social media manager freelance jobs.
As an individual with personal social media accounts, it may seem absurd to consider social media management as a stand-alone job. But, with increasing interference of social media in people's everyday life, almost every business – be it small or large – is desperate to create a strong social media presence.
While that being said, the need for an exclusive 'social media manager' in companies have increased in order to devise strategies and handle their brand image on each platform with care.
As a Social Media Manager, one would be expected to have the following skills –
Copywriting – To write precise captions which attract the audience to read it.
Designing – To produce attractive images
Basic people psychology – To understand customer perspective and produce content that drives engagement.
Analytics – To properly analyse what strategies work best and plan future social media activities according to that.
For more insights about skills – check out
10 Essential Skills for Social Media Managers by Jeff Bullas
Resources for beginners – 
Virtual Assistant
Virtual assistants are those who offer remote assistance to a business or an individual.
The work as a virtual assistant may involve any of the above-mentioned jobs in addition to many client-specific tasks.
Say, I handle an Facebook page of an XYZ company in addition to occasionally handling their website update works and some simple digital marketing tasks. In this case, I cannot be categorised into any single frame. So, I will be called a Virtual Assistant in general.
A job as a virtual assistant can be simpler as a beginner because most works will be supervised by someone from the firm and provide you with a platform to learn by having an inside look on how things work.
Influencer
An influencer can be any individual who has an influence on you to affect your purchasing decisions.
An influencer recommends a business product or service to the group of people who they have gained for their expertise and knowledge sharing. They generally have a large number of followers who are inevitably influenced by the recommendations made by these influencers.
Platforms that are commonly used for influencer marketing are
Blogs
Youtube
Podcasts
Social media posts
Email Marketing
Ideally, Influencers are expected to suggest products or services which they personally use and trust.
Depending on the number of followers, the social Media Influencers are categorised into –
Mega Influencers – More than 1 Million followers
Macro Influencers – 50,000 to 1 Million followers
Micro Influencers – 1,000 to 50,000 followers
Nano Influencers – Less than 1,000 followers
Though it seems off-way from usual jobs, once you reach a certain level of expertise, becoming a social media influencer can be one of the awesome work from home jobs for moms.
Looking forward to becoming a social media influencer? Your first step should be to build your audience by providing valuable content. Plan it and nail it.
In initial stages, people and brands approach mostly for barter collaborations where you would need to provide a review for the free product they send you without involving any money. Be specific in choosing such collaborations and make sure to provide your honest feedback or review to the public.
Also, some parenting communities like espresso, baby chakra and so on offer a platform for moms and brands to collaborate and work together. Check out their pages and make use of such opportunities as well if you are interested.
Remember… Never bombard your audience with just reviews and product ads just because you make money out of it. This causes your followers to lose trust in you.
Social Media Strategist
Searching for the best work from home jobs for moms that requires as less time as possible for you to work?
Maybe if you are good at social media and know every nook and corner of one or the other social media platform, then being a social media strategist can be just for you as it is one of the most flexible work from home jobs.
A social media strategist is someone who offers contract-based or one-time consultation for companies or brands to help with strategising their social media activities to achieve some productivity goals for their business.
They don't basically do any front end activities like writing content or creating graphics, but research, analyse and arrive at proper strategies like when to post, what to post, how to connect with the audience and so on for the business.
Well, previously I mentioned it needs just a small amount of time to be spent. Here, I actually referred to the actual work you put on the strategising process. But, prior to the real job, you need to gain expertise on social media platform you are pitching for, through learning courses or exploring in depth by yourself. 
Work From Home Jobs for Moms
– With investment
Blogger
Yeah! You can really make money from consistent blogging.
Else, how do you think all those trillions of blogs on the internet survive by giving just valuable information to you at no cost?
As a stay at home mom, you can easily, (well, not that easily..), make money with a side hustle like blogging.
What is blogging?
Well, a blog is a website where you share some valuable information to your audience through written content or visual ones. This process is termed as blogging
What should you do to become a profitable blogger?
As a blogger, you can earn in various ways like running ads, selling products on your site, or affiliate marketing.
Know how to monetise your blog here.
But, How much does it cost to start a blog?
The investment to become a profitable blogger is in two things –
For the blog – Hosting, plugins, mail subscriptions, and other things
For learning about blogging – Courses, workshops and so on.
There are various other courses on the internet that could guide you through every single step of starting a blog and earning from it. Yes, believe me, you really need to invest in learning about blogging before you can effectively monetise your blog.
You know. there are people who earn 7 figure income out of blogging which is indeed a result of consistent learning and effective planning.
Want to learn more about blogging? As a beginner myself, I would love to share with you about my journey so far. I always feel that beginner to beginner chat is a more effective source of gathering information and effective knowledge transfer.
Ready for a beginner to beginner chat? Leave a comment below!
Digital Marketer
Imagine yourself running your own business, hooking clients, meeting deadlines, getting paid and investing it for your family's future!
That's cool, isn't it?
You can really do that, I swear.
With Digital Marketing as your business, it can really be as professional as you can ever think, just like a white-collar job.
No, no… You don't need to be a tech-savvy mommy for becoming a digital marketer. All you need is to learn what is a digital marketing and keep up with the trend with research and analysis.
But, what is digital marketing?
Marketing in the digital medium, principally internet. A digital marketer is one who helps any company, brand or an individual reach more people through marketing on digital platforms.
Most common types of digital marketing include
Content Marketing – Blogs, Websites, typically everything with texts in it.
Email Marketing
Social Media Marketing
Search Engine Marketing
And soooo on.
Know the basics of digital marketing here in this article – Digital Marketing Made Simple
Also, Every business needs a digital presence to succeed. So, trust me, there are a lot of people out there looking for digital marketing help. So, if you become a good digital marketer, then consider your career settled.
Coach / Consultant
Are you a subject matter expert in any particular field? Whatever be the field, check if people are willing to gain knowledge in that area. If so, why not become a coach or a consultant in your area of interest and share your knowledge with others.
You can charge for your knowledge sharing service and earn an income out of it. This 2020 pandemic lockdown has given rise to a new trend of online coaching in every possible channel like never before.
Be it Instagram live or zoom meetings, people started taking classes and sharing pieces of valuable information from their expertise in the digital media providing educational value for the viewers and monetary value for themselves.
Well, what is the investment here?
You probably will be expected to be certified to provide coaching or consultancy – though not mandatory for many fields, certification can give credibility to your expertise.
From parenting to technology, there are people out there looking for someone to coach them. Start sharing your knowledge and earn for the value you provide.
Graphic Designer
Do you have a great eye for creative designs, be it fashion clothing or social media images?
Then you must take your interest ahead as a professional graphic designer without the ability to visually communicate with people.
Yes, get your neurons working and make amazing designer creations in areas like
T-shirt designing
Webpage designing
Social media graphic designing
Ebook designing
Brochure designing
Logo designing
Magazine designing
Where to start?
First, understand your area of interest – what would you like to design? Explore the tools you need for professional designing and learn it. You don't have to master the tool, but you definitely need some experience in it to pitch for jobs. And then you can improve your skills as you work.
Some tools that can take you to design path include –
Canva
Photoshop
Illustrator
Picmonkey
Aperture
CorelDraw
Of which, Canva is a very userfriendly and easy to use application most commonly used for basic designing like for social media graphics. And it is personally my favourite and I am on the route to mastering Canva designing.
Any help with social media graphic designing? Do feel free to contact me on any of my social media handles here.
Crocheting
Are you good at crocheting? Or interested in making woolly dolls, dresses and so on? Go on and learn how to Crochet online or offline. And start selling your handmade products.
Handmade products have gained more value these days and hence your market scope is higher than ever.
You can either start your own store or do it on a contract basis for some vendors. Either way, you can make good money out of it.
And yeah… The investment here includes the raw materials and courses you may need to attend to learn the process.
Home-based Bakery
Well, people have really started to love homemade items in everything. Bakery products top the list because of this health quotient and reliability.
So, if you love baking then you should definitely try this as your side hustle. Invest in learning different techniques and buying advanced baking kits to make it more professional.
Aren't cookies and cakes ever-trendy?
Soap Making
Well, leave making money, I had always wanted to make my own soaps for me and my family. (I even tried but failed 😅 – just not my cup of cake!)
And one mistake for my failure is that I tried with just a youtube video tutorial. Only later did I realise that investing in proper learning is more important.
Cutting to the chase – love to make soaps on your own? Then turn your passion into a business. You can sell homemade soap online or through a physical store and become a mompreneur.
Looking forward to learning soap making? Try attending soap making workshops and master the art of soap making with perfection.
Embroidery
Who doesn't have a craze on hand-made embroidery work? From weddings to all special occasions, many love embroidered designs on their clothing.
If you have an interest in embroidery and fashion, go for it. It is one business you can do without much pre-works. You can even start the business locally by offering service to friends and family and grow it by referrals.
Also, you can keep tie-ups with local tailors or fashion designers to provide your embroidery service that complements their works.
You don't really have to be so creative and innovative to become a good embroidery artist. All the inspiration you need are on the web, you can easily
Investment here is…
Learning through classes or courses
Raw materials & Tools for embroidering
Open a Boutique
The boutique can be a dream for most women because of the passion for fashion and clothing. Boutiques, small retail shops, can actually be an easily achievable dream.
But, it requires a good investment upfront which can be challenging at times. Once you get a good reach and your business picks up, you can really make a good income out of it.
You can start any type of boutique depending on your capability like buy and sell boutique (you buy on wholesale rate and sell to customers), franchise boutique (you operate under a reputed brand name), Retail outlet (you sell products manufactured by your firm), etc..
First off: Decide what you would sell, whom to sell and how you are different from your competitors.
Only on knowing these and acting according to that, you can take your business operations to the next level. Because, to be frank, there are thousands and thousands of small boutiques out in real, only strategically planned stores will take their rightful place on this busy market.
Homemade food/self-care products seller
Are you great at DIY health or self-care products? Try selling it to the public and earn from it.
There is good demand for products like Health Mix, face packs, hair packs, instant mixes and so on. Take your expertise (or your granny's maybe 😉) to your advantage
You may require some professional manufacturing tools if you plan to do it on large scale. For eg. You cannot dry tons of grains in sun in a short period of time, you would need a dehydrator for that purpose.
If you are doing on a small scale, then it would be possible just with our home accessories.
Also, selling food products commercially has some rules and regulations which you should be aware of. Make sure you abide by it and get proper approval before getting into the business.
To Wrap It Up…
And dude your options are not limited to just these, there are still lots and lots of ideas for work from home jobs for moms. Something you are really good at? Then search for opportunities for monetising that passion.
Not sure how? Feel free to contact me, I would try to help.
No, I am not an expert in it, but I do have some exposure to various careers. So, maybe I can be of help somewhere!
And Please Take A SECOND & let me know your feedback in comments below 🙏