Amazon Great Indian Festival is one of the great occasions for online shoppers to loot their favourite products at the best price.
Especially as a mom to a toddler, the online purchase of books, toys and other essentials seem endless. This Amazon Great Indian Festival 2020, is still more different as visiting physical shops seems scary this year!
With lightning deals that come recurring every now and then to golden hour deals, this shopping fest by the leading e-commerce store is really incredible.
So, you in to grab some awesome products at great deals?
Here are few good deals on books that I personally feel are the great to buy on this year's Amazon's Great Indian Festival.
Disclaimer – The post contains affiliate links which means we may get a commission for qualified purchases made through links at no extra or hidden cost to you.
Best Deals on Children's Books
This awesome book by Oliver Jeffers is one other great book at a great price in this year's sale. Simple illustration and interesting storyline that drives open-ended thinking for your kids. This is a limited deal offer that is now (at the time of writing this post) below 300/-. Hurry up and buy it now!
One book that seems to occupy almost every kid's book shelf is this. The simplicity of the story and tiny size of the books make it ideal for your little readers. A set of 6 books at the great price
The best selling book at the best deal! 
Don't miss this incredible book by Julia Donaldson at any cost. Yeah… no matter the price, (though it is at the best possible price today), don't miss the chance of reading this book to your kid.
Having kids you love to actually 'read: illustrated books? Then you can go for this. Not a tremendous deal, yet a great book for kids of the reading stage. 
Kids not at the stage of independent reading? You can wait for the next sale and get it then as this book seems to come on the deal every year.
Though not a loot, you can buy this interesting book at this price if you have kids of reading age as this is one book you shouldn't miss. 
Interesting series for older kids who are into stories and reading. 17 titles at below 1000 Rs seems to be a good deal.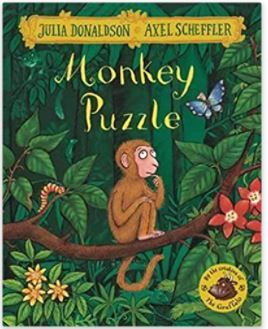 Monkey Puzzle by Julia Donaldson is available now at a great price. This is one of our favourite books that illustrates many animals in the forest. The storyline follows a little monkey who gets lost in the forest and is helped by a butterfly to find its mother. They encounter various animals on the way which is actually fun and also so educative for the kids.
The biggest plus of this book is the good picturisation of the animals in almost real-like images.
And the end of the book will surely get you a hug from your little one just how the little monkey hugs its mother.
I bought it for around 300 and this price is a good deal!
Raving fan of Harry Potter world? Buy this awesome set at good sale price for you and your kids and enter the world of magic!
Not a 'Hurry Up' Kind of deal though… As this price for the harry potter series comes and goes often on Amazon.
This series of cutout board books are actually simple and sturdy picture books for little kids at the best possible price. Usually priced at 99/-, it goes as low as 49/- on this deal. Try getting the book with animals or characters your kid is fond of and let them enjoy it.
Above of few deals that is pleasing for me and I have used these products personally or have got good reviews from friends. Please note these are limited time deals.
---
Yunik Little Kids is a participant in the Amazon Services LLC Associates Program, an affiliate advertising program designed to provide a means for sites to earn advertising fees by advertising and linking to amazon.in at no extra or hidden costs to the user,