– A Honest Review by a Beginner Blogger
About – A review of Work At Home bundle 2020 by the most renowned creators, the Ultimate Bundles.
Quick Bit – This Work At Bundle 2020 is coming on a flash sale for just 2 days on Oct 26 & 27. Get ready to grab it in…
Disclaimer – This post contains affiliate links. This means that I may get a commission if you choose to buy through any of the links at no extra cost to you.
We are in the year where jobs are at stake, salaries are deducted, work hours are tampered with, and everything out there is just so messed up. The majority of the population started working at home. While it seemed to be fun at first, most people started finding it difficult to manage as days went on.
I struggled with the same too. But, very recently I found something that could help with this so much.
I very recently came across this big-name – Ultimate Bundles, through one of my blogging mentors, Neha from Blogging Made Easier.
Either you are a mom looking for ways to work from home while managing the family effectively or a work at home professional struggling to balance work and home or someone looking for a secondary income path, then this bundle is just for you.
What is a bundle? Who are Ultimate Bundles?
Ultimate Bundles is a successful bundle creators who compiles resources from top bloggers and experts related to a common subject matters like healthy living, productivity, blogging, etc… depending on the bundle concept.
They compile multiple resources from various sellers, costing anywhere around $1500 – $4000 or even more and offer it for $35 to $99 with almost 98% discount.
The sale happens only once a year for a specific bundle. Each year they compile different resources -meaning, the products of this year won't repeat the next year. The sale window is often less than a week.
Sometimes depending on the demand for a particular bundle, the product is once again put on a flash sale for just 2 days – just like this year's Work At Home Bundle.
Have a look at Work At Home Bundle 2020 here…
The Work At Home Bundle by Ultimate Bundles
Work At Home Bundle 2020 is a compilation of 28 resources + bonuses which is worth $1603.90. This is presented on sale under ultimate bundles for just $37.
Isn't this mind blogging?
Before I head on to a detailed review of the product, here is a small overview of the bundle.
Flash Sale: October 26-27 2020

$37.00 + $10.00 cheat sheets

Contents: 11 eCourses and Membership Sites, 9 eBooks, 4 Workbooks and Printables, 4 Templates
Value: 28 products worth $1603.90 + bonuses
30 days money-back guarantee
What does Work At Home Bundle Contain?
This years work at home bundle contains –
11 eCourses and Membership Sites
9 eBooks
4 Workbooks and Printables
4 Templates
Value – 28 products worth $1603.90 + bonuses
Covering the topics –
Job Opportunities
Personal Development
Productivity
Side Hustle
Work/Life Bundle
Who is it for?
Work At Home Bundle 2020 is the right place for you to start with if you are someone
Hunting for ways to find work from home jobs
Confused about some ways to make money from home
Looking for ways to find more time from home and be more productive
trying to build a foundation for works like virtual assistance, blogging, digital marketing, freelance writer
struggling to master work-life balance effectively
It is filled with products worth $1603.90 for JUST $37.
At around 98% Discount!
But, wait… 98% OFF? Is it even logical?
It may seem like marketing gimmick to give a large quantity of resources at such a low price and describe them to be of EXTRADINARY QUALITY. It may seem to be illogical to get great product at great price.
But, Trust me. It's completely real – Yea, the discount is real. The value it provides is real.
But, How?
Here are a few doubts you may get because of this extra-ordinary discount.
Why such a huge discount?
These type of bundles are created for the benefit of the consumers and the contributors alike, with a view to provide high-quality products to the users.
How is it beneficial for the various contributors of the products at this low price?
As a contributor, they get the unbeatable benefit of reaching wider audience.
For example, there is one product valued $99 inside the bundle among 27 others. So, this contributor will be selling the product for a much lower price of $37 than their single product price, isn't it?
But, in the whole picture, they will get the reach of audience of 28 contributors and hundreds of affiliates. This can become a great chance for them to upsell some of their other products.
So, as a buyer, you get high quality products and as a contributor, they get audience who can be converted to customers.
Are the products really worth the money?
The team, Ultimate Bundles, spends months and months for reviewing the products submitted with utmost care. So, as a buyer of few other bundles from them, I personally feel its worth every penny spent.
What if I can't take up all the resources and learn it?
No one can complete all the resources. Its all about making use of what resonates with you so much. Even if you make use of 5 or 6 products completely, you will be reaping the benefits of more than what you spent on it.
Still not convinced? Peek over the products on this Work At Home Bundle here and their detailed review to get more insights about it.
Work At Home Bundle 2020 has 28 resources related to various aspects of work at home. The bundle products are categorised into 5 sub-divisions.
As a work at home mom trying my hands on various things, this work at home bundle is just what I needed at this time.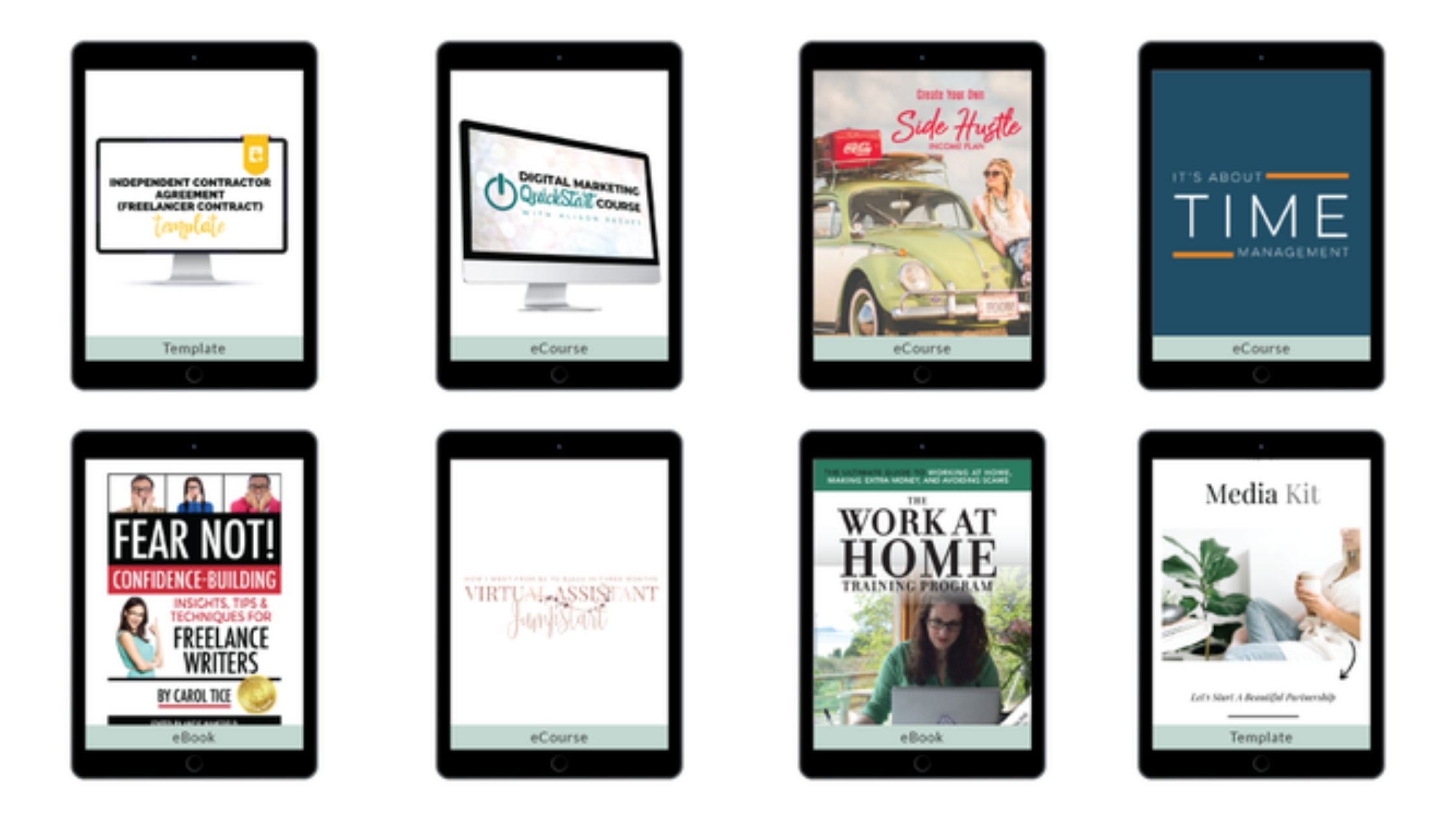 It has exemplary resources for someone in the phase of job search. I have been there in that phase of endlessly searching for work-at-home jobs in an extremely unplanned and unorganized way which ended up just useless. This bundle has a plethora of resources for making your job search organized and effective.
The Virtual Assistant jumpstart course itself will surpass the value for the money paid for the bundle. It is packed with value and has proven extremely helpful for me as a virtual assistant myself.
As a freelance writer, the Freelance agreement template alone is much valuable to me than you can imagine. 'Digital marketing Quickstart' and 'Fear Not! Confidence-Builiding Insights, Tips & Techniques for Freelance Writers' are the icing on the cake!
Side hustle is something I never seem to manage with other works. And this bundle has various resources for that (which I haven't started yet). Hoping to get the best out of those.
And last but not least, productivity and time management resources are just so extra-ordinary as all these are specific to work-at-home scenario and are really actionable.
There is a flash sale coming up for this work at home bundle on October 26 & 27 – for just 2 days.
Don't forget to buy the bundle during the sale at this extra-ordinary price.
Why Should You Buy?
There are various reasons I could state to vouch for this work at home bundle – 2020. But, the one thing I would repeatedly say is – the value of the products listed.
I have been at the same place as you wondering if i should spend money on such products, if I will ever use those and so on. But, I heard lots of people talk about it and vouch for it. So, I ended up buying it.
And now, I could strongly say and recommend this bundle without any hesitation for various reasons including
High Quality resources
Great value for your money
Lifetime access to products (once you register or download in the given timeframe)
30 days money-back guarantee
Exposure to various experts in the field
Pssst… as a blogger, I found inspiration from every landing page of the resources.
Detailed List of Resources in Work At Home Bundle 2020
JOB OPPORTUNITIES
This section has 5 products worth $331.95.
#1 – From $0 to $1,000: How to Create Your Own Work-from-Home Job! (eBook) by Bethany Lotulelei
Value – $3.00
Covers – Various ways for working from home + worksheets to help you map your thoughts and find the right job for you.
#2 How To Find Real Work From Home Jobs (Plus 150 Companies That Hire) (eBook) by Anna Thurman
Value – $5.00
Covers – Great insights on how to search for jobs. Provides list of various portals and companies that offer such jobs plus their pros & cons
#3 Remote Job Bundle (Workbook) by Chhavi & Amit
Value – $17.00
Covers – Tips, ideas, and workbooks to organize, plan and improve your job search
#4 The Ultimate Guide to Make and Save Money at Home (eBook) by Kylie Travers
Value – $9.95
Covers – Tips for money making, saving and budgeting by managing daily household activities effectively with budget-friendly recipes, parenting and so on
#5 Virtual Assistant Jumpstart: How I Went From $0 to $3000 In Three Months (eCourse) by Alexandrea Harrelson
Value – $297.00
Covers – Complete guide to help you lay a firm foundation for virtual assistant job
PERSONAL DEVELOPMENT
This section has 6 products worth $666
#6 Become a Powerful, Confident Speaker on Camera (eCourse) by Narrisa Mandol
Value – $97.00
Covers – tips to create impactful videos for your audience
#7 Brand Your Business (eCourse) by Jordan Prindle
Value – $147.00
Covers – Know how to create an awesome brand for your business
#8 Business Planning Retreat Intensive: Get Clear & Focused with your Solopreneur Business, All Year Long! (eCourse) by Sagan Morrow
Value – $99.00
Covers – A kit to help you with the journey of solopreneur business
#9 Independent Contractor Agreement / Freelancer Contract Template (Template) by Lucrezia Iapichino
Value – $87.00
Covers – Agreement Template for Freelancers and contractors
#10 Freedom Income Mastermind: 3 Month Membership (Membership Site) by Rachel Denning
Value – $177.00
Includes – 3 month membership to join the community of like-minded parents for live online income mastermind meeting
#11 Professional Media Kit Template (Template) by Chelsea Clarke
Value – $59.00
Covers – A kit to assist you in pitching yourself for various paid collaborations
PRODUCTIVITY
This section has 6 products worth $142.98
#12 It's About TIME – Management (eCourse) by Rebekah Saltzman
Value – $47.00
Covers – tips and tricks to help you in time management
#13 It's My Time: The Time Management Planner That Helps You Budget and Save! (Printable) by Kris McPeak
Value – $19.99
Includes – Template for helping you in time management
#14 Outsourcing Planner (Workbook ) by Lynette Chandler
Value – $27.00
Covers – Workbook to help you plan outsourcing of your works effectively
#15 Towards Personal Productivity: Approaches and Tools For Enhanced Personal Productivity (eBook) by Takis Athanassiou
Value – $9.99
Covers – Ultimate personal productivity strategy guide
#16 Work at Home Schedule Templates (Template) by Brianna Berner
Value – $22.00
Covers – Templates to help you plan your day
#17 Work at Home Job Search Trello Templates (Template) by Traci Weinhart
Value – $17.00
Covers – Trello template to help you organize your job search
SIDE HUSTLE
This section has 7 products worth $297.98
#18 Create, Launch and Grow Your Online Presence: An A – Z Blueprint for Turning Your Passion into Viable Income (eBook) by Abi Faniran
Value – $25.00
Covers – Roadmap to help you in creating and growing an online business
#19 Create Your Own Side Hustle Income Plan (eCourse) by Kerry Beck
Value – $97.00
Covers – ideas and assistance to help you create a side hustle
#20 Digital Marketing QuickStart (eCourse) by Alison Reeves
Value – $147.00
Covers – Foundation for digital marketing
#21 Fear Not! Confidence-Builiding Insights, Tips & Techniques for Freelance Writers (eBook) by Carol Tice
Value – $3.99
Covers – insights to help take freelance writers to next level
#22 Power Bundle: 1Month – $1K + 5 Side Hustles That Actually Work (eCourse) by Amanda Teixeira
Value – $7.00
Covers – Insights about 5 side hustles that you can try
#23 Pricing Template and Guide (Printable) by Menucha Citron

#24 The Work at Home Training Program: The Ultimate Guide to Working at Home, Making Extra Money, and Avoiding Scams (eBook) by Bethany Mooradian
Value – $9.99
Covers – An ultimate guide to working at home, making extra money, and avoiding scams.
WORK/LIFE BALANCE
This section includes 4 products worth $164.99
#25 Master the Balancing Act: How to Balance a Job, a Side-Hustle, and a Life with Grace and Success (eBook ) by Stephanie Johnsen
Value – $9.99
Covers – interesting insights on how to balance a full-time job, side-hustle, and life
#26 Stretched Too Thin (eCourse) by Jessica Turner
Value – $39.00
Covers – Assistance for working moms to manage home, life, and job
#27 The Work-At-Home Survival Guide (eBook) by Caitlin Pyle
Value – $17.00
Covers – Informative resources for peaceful working at home
#28 Work From Home: Remote Work Made Simple (eCourse) by Robert & Laura Mapstead
Value – $99.00
Covers – Tips to make work from home easy and effective
BONUSES
#29 SaneBox – $25 Credit
SaneBox is a tool to help you clean your email.

#30 Beekeeper's Naturals – B.LXR Brain Fuel (3 pack) worth $16
Summary –
On the whole, I am absolutely in love with these products and would recommend to anyone who would wish to make their work from home experience blissful provided your budget permits and you are sure enough to put effort to implement what you learn from here.
Grab this last chance to get hold of these 28 products!