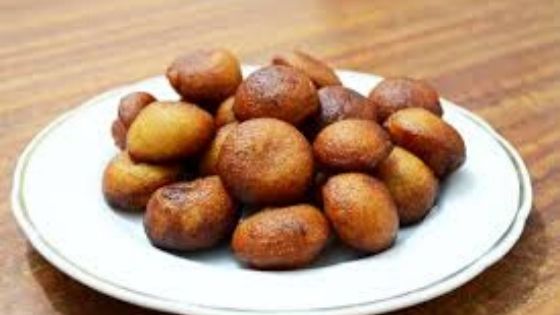 Let your baby enjoy the authentic taste of Kerala through this yummy coconut flavored unni appam. Unni appam or Nei appam is a great evening snacks recipe for kids and babies.
Not a reading type? Check out the detailed recipe Video below the recipe details…
Unni Appam / Nei Appam
Unni appam or Nei appam are mini rice cakes made with rice, coconut and banana. This confectionary snack is one of the authentic sweet snacks from kerala cuisine which is served during onam and also as offerings in some temples. This is basically kerala version of tamil sweet kuli paniyaram!
Today, for your unique little kids, our dearest youtuber and a fellow mom Kalai is here with the easy baby friendly recipe of this bite sized delight which will become your kid's favorite in no time.
Without further ado, let's get into the recipe.
Unni appam recipe
Banana appam | Neyyappam | easy unni appam
Servings : 20 numbers
Ingredients
2 cup raw rice, soaked for over 4 hours
200g Jaggery
1 ripe banana
3 Cardamom
1 cup coconut, grated
Coconut oil
Ghee
A pinch of salt
Instructions
Add jaggery to a hot pan and heat until it melts and thickens a little
Filter it and keep aside for cooling down
Add raw rice or rice flour, banana, and cardamom to a mixer and grind it to a soft, thick batter.
Now mix the cooled jaggery syrup and a pinch of salt to the rice batter.
Let it ferment for about 3 to 4 hours.
After 3 to 4 hours, the batter would have fermented.
Now, heat a paniyaram pan and fill each pit with ½ teaspoon coconut oil. Once the oil heats, add ½ teaspoon ghee (This enhances the taste of the unniappam!) And keep the stove on medium flame.
Pour batter in each pit to half the level.
Once the top is cooked to half inch, pour little oil on the top and the edges.
Try moving the half cooked appams with a stick or a fork. If it easily floats in oil and moves, then it's the right time to flip it over.
Flip it over and wait for some time before taking the unniappams off the stove.
Keep it over a paper towel or tissue to drain oil from it. And now, Unniappam is ready to serve!
Unni Appam Recipe Making Video ( In Tamil )
By Amma Daddy Vlog
Tips
Using Rice Flour – Replace raw rice with 2 cup rice flour. Make sure to dry roast the flour in a pan before grinding with banana.
Storage & Usage – Always best to serve hot for the fluffy delight. But you can keep up to 2 weeks in refrigerator and reheat for 5 min while serving.
Milky appam – In case the batter becomes thick, you can add milk to get desired consistency.
Fermentation – In hot climate, the fermentation may happen in just 2 hours. Else, it may take upto 6 to 8 hours. So make sure to do according to the climate.
Extra fluffy unniappam – Add half teaspoon of baking soda or baking powder to the batter and let it ferment for at least 2 hours. Make sure to keep it minimum as it may make the appam more oily.
Crunchy coconut twist – Replace grated coconut with little sliced pieces of coconut to make it more crunchy. Not recommended for kids who do not know to chew properly. !Choking Hazard!
Sesame flavor enhancement – Add a teaspoon of sesame seeds to the rice, banana, and cardamom mixer before grinding to enhance the flavour
Do try this out and let us know in the comments if you love it!
We would love to hear feedbacks from you to help us serve better…
About the guest
Kalai is a mom to a tiny twister and creater of the youtube channel, Amma Daddy Vlog. Her youtube channel is filled with the laughter of her little girl and yummy kid-friendly recipes. She is also an active instagram microblogger sharing many eye-opening insights on parenting.
Connect with Kalai –
Instagram – @kalailifestyle
Youtube – Amma Daddy Vlog